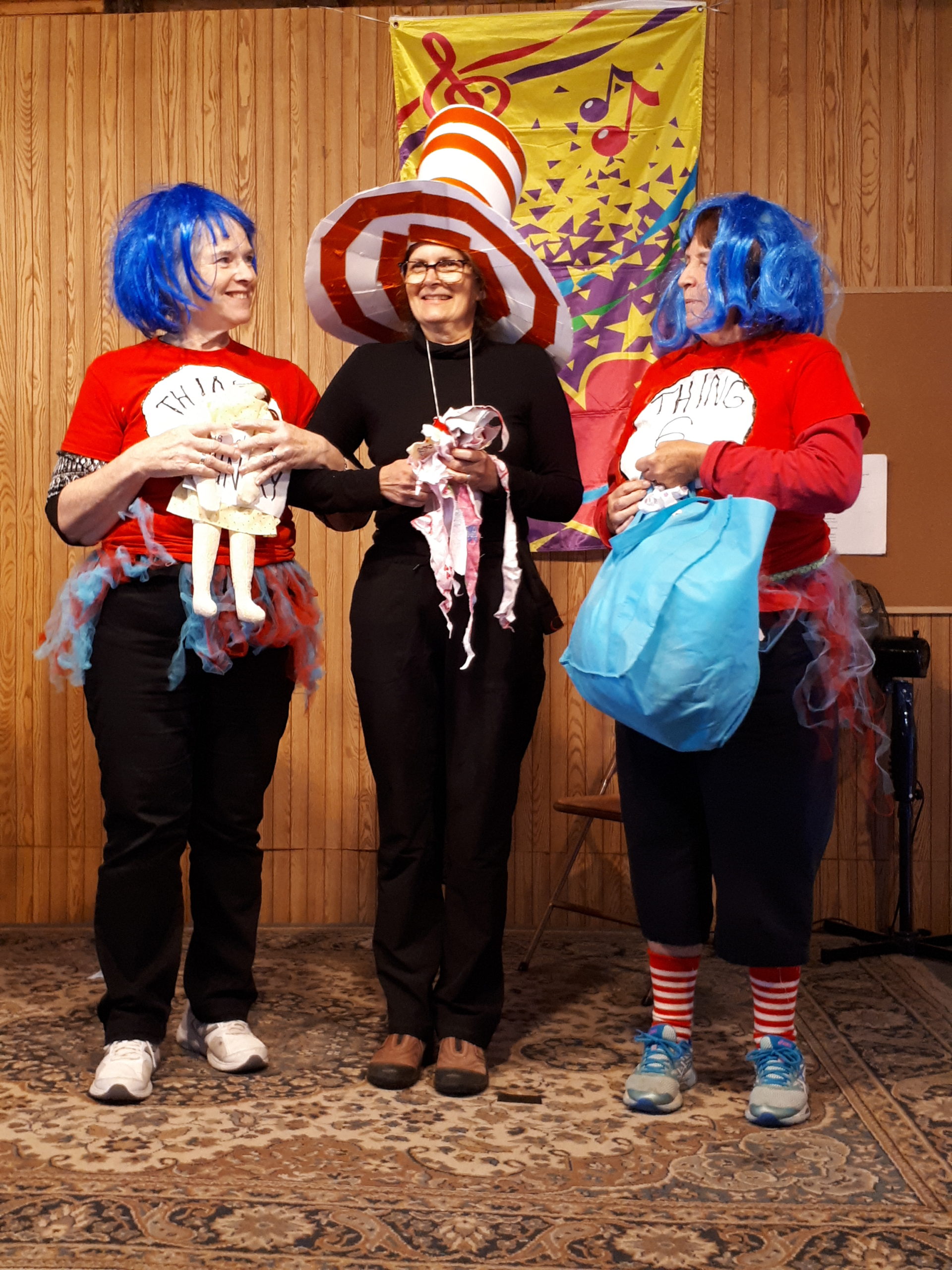 A skit performed by the women of Kawartha Highlands at the UCW 2019 fall weekend at Camp Quin-Mo-Lac.
WRITTEN BY NORA DARLING
"Bah Humbug!" said the Cat in the Hat.
"It's Christmas! I can't be bothered with that!"
Thing 1 and Thing 2 raced through the Cat's door
Setting a box full of decorations onto the floor.
Then they hung this thing here and hung that thing there
Racing about as though they'd not a moment to spare
Then the Cat in the Hat stood admiring their work
and said rather slyly and with a bit of a smirk.
"Bells on the tree, wreaths on the door,
Turkey in the oven, I can't do any more"
"Now that's just ridiculous ," said Thing 1 and Thing 2,
"You should meet UCW and see all the things that they do!"
"UCW?" said the Cat in the Hat "UCW? Now what on earth's that?"
Thing 1 and Thing 2 knew they must show the cat!
Not knowing UCW! They couldn't have that!
They both started to grin and raced down the hall
opened the door and selected a shawl
Grabbing the cat they made a house call
on young Ginny Jinkerson who'd had a great fall
They wrapped it around her as soon as they got there
"Finally" thought Ginny, "there's someone to care!"
It wasn't just them, thought Thing 1 and Thing 2,
why there are cards and well wishes and even some stew,
All made by some women who cared for her too!
So they chatted and laughed and ate this and that,
Gathered in prayer then the Things grabbed the Cat
For there's much more to UCW than just that!
So they raced down the hall and grabbed the great Book ,
They knew he would get it if he just took a look
As they flipped through it, less than a minute it took!
Thing 1 and Thing 2 pointed to the wisdoms found there
Then with a nod of their heads and a quick little prayer
They read and they copied and they pasted and clipped
They grabbed a hymn book and through it they flipped
And before the Cat in the Hat knew what was happening here
a learned worship service did magically appear
Now the Cat in the Hat thought he knew it all
But Thing 1 and Thing 2 knew these women answered the call
Of the weak and the meek, the lost and the small
They all would have a voice both caring and strong
These women would champion their cause 'til all danced along
So Thing 1 and Thing 2 each raced down the hall
Grabbed big bags of material, stuffing and all
Then gave him instructions for a poverty doll
They sewed and they stuffed and they pinned on a note,
This child is hungry, is all that they wrote
Then grabbing the dolls and the Cat in the Hat
Thing 1 and Thing 2 stepped up to the bat
Just like these women, they hit Rideau Hall
Reminding politicians of their duty and call
To listen to the voices who had elected them here
And eradicate child poverty before the end of the year.
Now thought the Cat you must be all done
But Thing 2 shook its head as did Thing 1
And soon they were back with a barrel of fun!
Then with wigs on their heads and bells on their toes
Thing 1 and Thing 2 put on silly skits, plays and shows
And some of the fun UCW had at Camp Quin Mo Lac
"Most surely, most surely" said the Cat in the Hat
"Most surely they don't DO ALL OF THAT!"
But the Things they just smiled, what else could they do?
For this camp was well funded by the UCW
Exhausted the Cat in the Hat fell to the floor
Please, please he begged them I can't do any more.
I just wish I could meet them and MEET THEM ALL SOON
They've done ALL these things and its only a quarter to noon
These women are truly a miraculous bunch.
What's that…they have prepared me a wonderful LUNCH!
Now the Cat in the Hat wanted to meet the UCW,
'cause of all that he'd learned from Thing 1 and Thing 2,
and now that I've shared this…… wouldn't you too!
Read about the United Church Women's recent activities