Book Launch – HyeRan Kim-Cragg's Postcolonial Preaching: Creating a Ripple Effect
May 12, 2021 @ 12:30 pm

-

1:30 pm

Free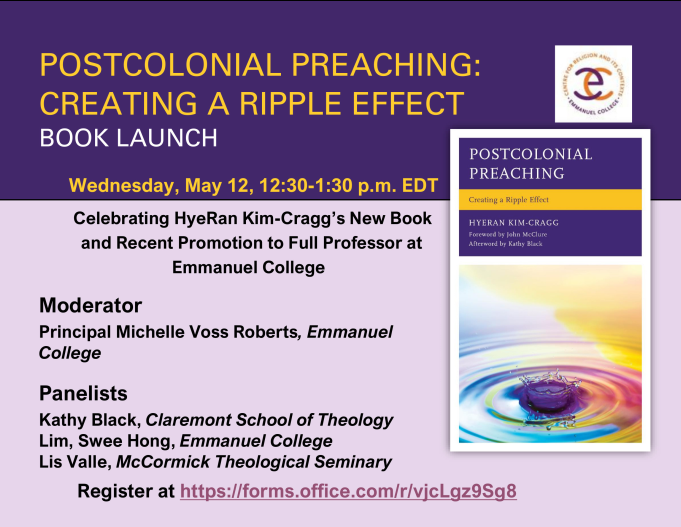 Emmanuel College is pleased to announce the promotion of the Rev. Dr. HyeRan Kim-Cragg Emm 0T6 to the rank of full professor. Kim-Cragg has held the Timothy Eaton Memorial Church Professorship in Preaching since 2019. Before she joined Emmanuel, Kim-Cragg held the Lydia Gruchy Professorship in Pastoral Studies at St. Andrew's College, Saskatoon for over 10 years. She is the first racialized person to be promoted to full professor at Emmanuel College, making this a truly historic moment in the Emmanuel College and Victoria University community. Read the full news release here.
Emmanuel College's Centre for Religion and Its Contexts will host a panel to launch Kim-Cragg's recently published book, Postcolonial Preaching: Creating a Ripple Effect, and will celebrate her accomplishments on Wednesday, May 12 at 12:30 p.m. EDT. All are welcome! The event is free, but registration is required.
About Postcolonial Preaching: Creating a Ripple Effect
Author: HyeRan Kim-Cragg; Foreword: John McClure; Afterword: Kathy Black
In Postcolonial Preaching, HyeRan Kim-Cragg argues that preaching is the act of dropping the stone of the Gospel into a lake, making waves to move hearts and transform the world wounded by colonial violence. The ripple effect serves as a metaphor and acronym to guide to preaching that takes postcolonial concerns seriously: Rehearsal, Imagination, Place, Pattern, Language and Exegesis (RIPPLE). Kim-Cragg explains each "ripple" in this approach and exercise of creating and delivering sermons. The author delivers fresh insights while drawing on some traditional homiletical perspectives in the service of a homiletic that takes the reality of racism, migration, and environmental degradation seriously. Moreover, Kim-Cragg demonstrates the postcolonial sermon in action by including annotated homilies. This book contributes to the very first wave of the application of postcolonial scholarship in preaching. Given the continuing extent and influence of colonial worldviews and legacies, this approach should become a staple in preaching over the next generation.
I hope to see you there!
Shawn