Orange The World
November 25

-

December 10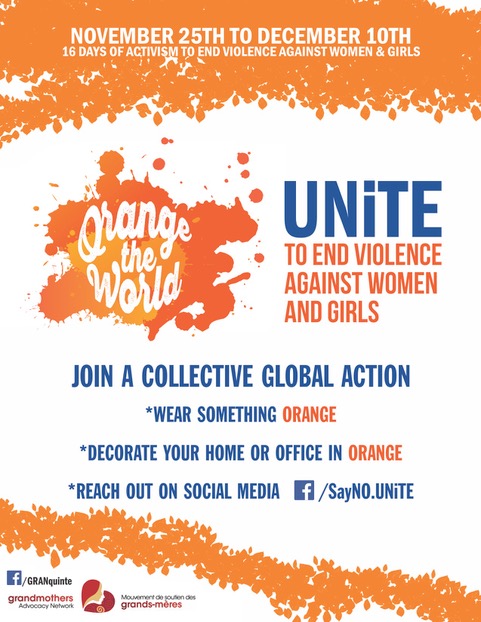 AN INVITATION TO "ORANGE THE WORLD"
During 2020, ECORC'S Faith Formation, Nurture and Justice Committee voted to support the Orange the World campaign initiated locally by GRANquinte, in partnership with the United Nations Association, Quinte Branch, and FNJT.  A very successful event followed.  We thank the Committee for voting to once again approve the 2021 campaign.
GRANquinte is a member group of Grandmothers Advocacy Network, a non-partisan network of volunteers across Canada, created to advocate for the human rights of grandmothers and vulnerable youth of sub-Saharan Africa. However, our concerns affect all generations, nationalities and communities. We educate to raise public awareness and advocate to influence national and global policy-makers in the areas of health, education, economic security and ending gender-based violence.
Therefore, we engage annually in the United Nations 16 Days of Activism to End Violence Against Women and Girls which draws attention to sexual and gender-based violence, one of the most pervasive and egregious human rights violations there is.  The annual global campaign to galvanize action to end violence against women and girls begins November 25th (International Day for the Elimination of Violence Against Women) and continues to December 10th (International Human Rights Day).  It has come to be known as the Orange Campaign, the UN having chosen that bright and optimistic colour to represent a future free from violence.  Orange is a unifying theme in activities all around the globe with buildings and landmarks lit to draw attention to the initiative.
In addition to our above mentioned partnerships, Red Cedars Shelter of Tyendinaga Mohawk Territory has validated our local efforts and collaboration by stating the following: "we all must work together to end violence against women and girls and promote healing".  The Shelter confirms the purpose and goals of the local Orange Campaign, as expanding its own vision and work on the Orange Shirt movement.
Called as Christians, to honor the life and dignity of all persons created in the image of God, we invite your congregation to observe the 16 days of Activism in one or more of the following ways:
Light your church in orange.  Floodlights are a simple option or strings of orange lights are available in the month leading up to Halloween.
Hold a church service on the Sunday prior to November 25th.  Rednersville Albury Community Church has held one for the past three years and our minister, Rev. Dr. Pam Holmes, has generously offered to share the worship services she created.
Congregants can wear orange, light their homes or display orange bows during the 16 Days.
Donate to local organizations supporting victims of violence.
Attached is a pdf poster which you can print and post in your church, home or business and a jpeg version to post on social media to let others know that you are engaged in this international movement.
Be proud that you are standing with communities in over 90 countries, planning orange-related activities to shine a light on the pandemic of violence against women and girls.
If you require further information or copies of worship services, please do not hesitate to contact:  Sharon Vanclief at 613-962-0285 or sharon@vanclief.net.