Some of the live stream and recorded worship services in our RC
March 24, 2020 @ 8:00 am

-

March 24, 2021 @ 5:00 pm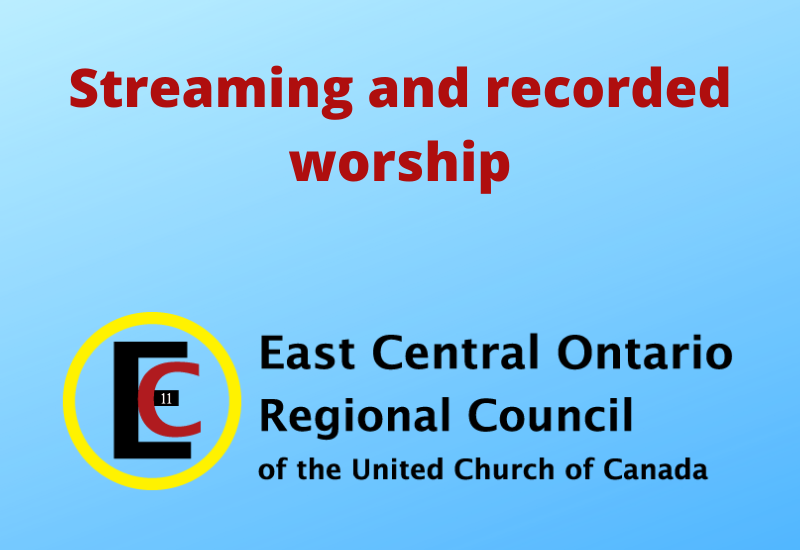 IN ALPHABETICAL ORDER
Cambridge St. United Church in Lindsay, 10:30 am
http://theunitedchurch.com/ and click HERE on Live Streaming, found on the left of the homepage
Dunbarton-Fairport United Church, Pickering
https://www.youtube.com/channel/UCC28_giuBvsxb8QGhvut70w
Dunbarton-Fairport United in Pickering is doing a prerecorded service with Rev. Deb Foster presiding and our Director of Music Dawn Duncliffe. It's available Sundays at 10:30…and thereafter for viewing at leisure. YouTube channel "Dunbarton-Fairport Worship".The service will be streamed on YouTube.
Eastminster United Church, Belleville
https://www.youtube.com/user/eastminsterunited
Find the weekly service/sermon on YouTube, Facebook and the church's website.
Faith United, Courtice
https://www.youtube.com/user/faithunitedchurch/videos
You are warmly welcomed to worship with us on Sundays at 10:30am.
Online, that is! The stream goes live shortly before 10:30. It is then available on demand afterward if you wish.
Orono United Church Pre-recorded
http://oronounited.com/
A full online service that you can watch at the time of your choosing. This week we are offering two versions: one with hymns and one without.
Pickering Village United Church, Ajax
www.pvuc.ca
We are pre-recording our services and they are available on our church website by 10:30 on Sunday morning.
Rednersville Albury Community Church
https://www.facebook.com/groups/1558489887598600
Live at 10 on Facebook page or watch the recording
St. Mark's, Cannifton
https://www.youtube.com/channel/UCCal98Qc3PK5Q8tCeXsRESA/
Live 10:30 – 11:30 and recording available following worship.
St. Paul's Ajax
https://stpaulsajax.org/worship/stpaulsajax.org
You are invited to join us each Sunday at 10:30 a.m. (EDT) for a time of reflection, music and prayer.
St. Paul's United Church in Stirling
www.StirlingUnitedChurch.ca
Details will be posted on the website where there are also daily messages
St. Paul's Warkworth 10:30 am
https://stpaulswarkworth.ca/
The details will be in the event calendar if not on the homepage
Selby Pastoral Charge
http://selbyunited.ca/selby_united/online-worship/  
Our pre-recorded service can be found on our website. Services will be posted each Sunday at 7:00 am, and can be watched at any time.
Trinity United Church, Peterborough
https://youtu.be/QS3VDD117YO
Join the service at 10 am or watch the recording later
Get more info on Facebook
Want to add your community of faith?
Email Louise at EastCentralontario@united-church.ca.
---
FIND SERVICES FROM ACROSS THE COUNTRY — and add your own
UCC interactive map of services
It's easy to add yours
https://edgeucc.maps.arcgis.com/apps/opsdashboard/index.html#/00d5083bcaff4120863a8badb2d0928a
Broadview Magazine is also compiling services and you can add yours: https://broadview.org/church-services-livestream/?mc_cid=e274f2b51a&mc_eid=84e5593742