Working well together: Now online. See update below the poster
March 21, 2020 @ 9:30 am

-

4:00 pm

$50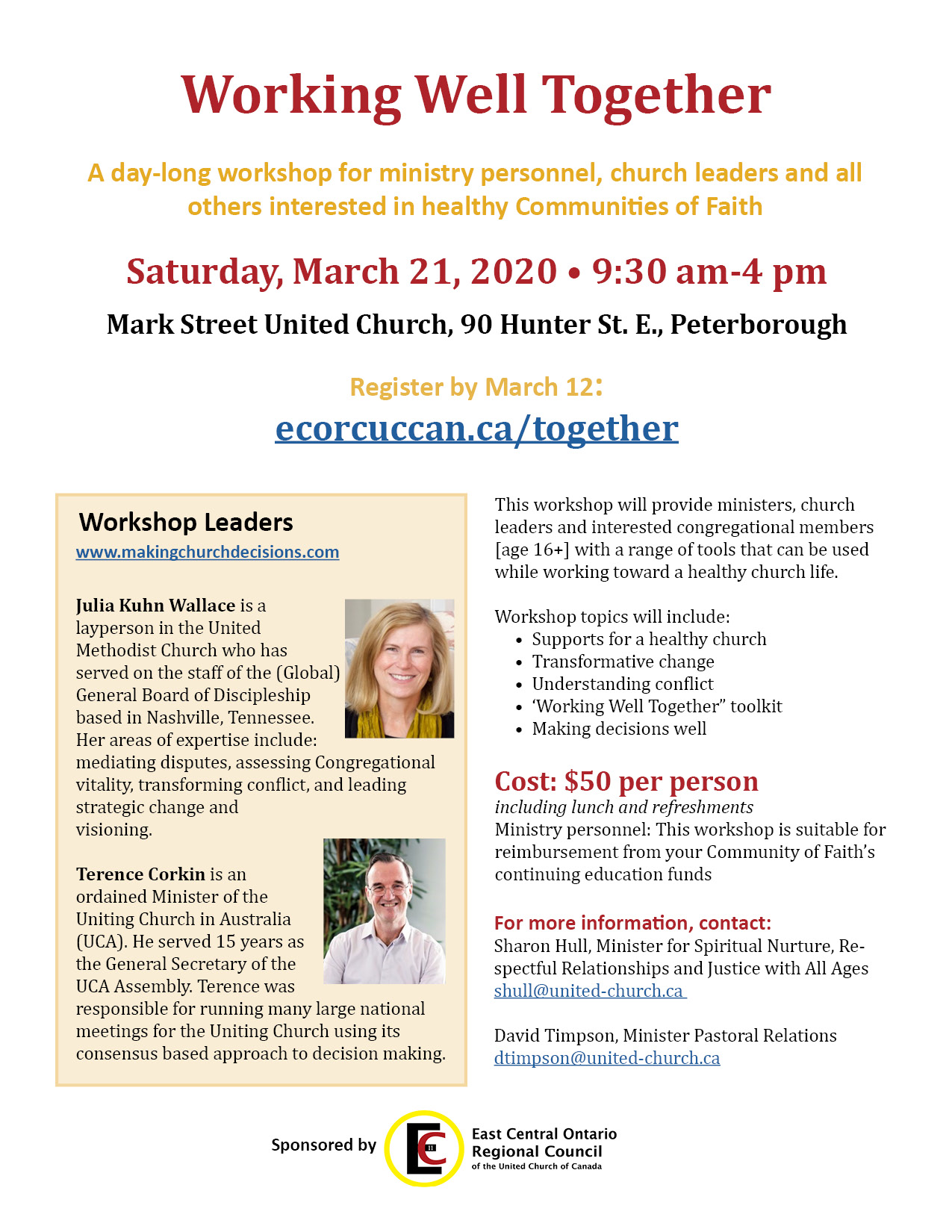 UPDATE on March1 17
In response to the COVID-19 situation, a gathering of people from across the region this week seems unwise at this time.
The Working Well Together workshop with Terence Corkin this coming Saturday, March 21, is going online.
You can still register
Registration for this now-online workshop will remain open until Friday March 20. Here is the link:https://ecorcuccan.ca/registration-for-working-well-together-on-march-21/
If you are already registered
The invitation to the online Zoom swill be emailed to all those who have registered. The email will be sent on Wednesday to the email you provided in the registration. If you don't receive the email, please first look in your trash folder and then contact Sharon (info below).
Zoom is an easy platform to use, you just click on the link provided in the email and follow the prompts on your screen. Zoom can also be accessed by phone.
The connection to Zoom will be open from 9:15 am and connections help will be available. The workshop begins at 10:00 am.  Breaks will be provided with the workshop scheduled to conclude at 4:00 pm. The cost remains at $50. The region has sponsored this event with expenses exceeding this level of reimbursement.
Updated Payment Options:
·      E-transfer to Regional Council treasurer Brian James at bjames@united-church.ca
·      Pay by cheque made out to the United Church of Canada and mail to: Brian James ,2881 Pearson Lane, Lakefield, Ont. K0L 2H
If you have any questions
Please contact Sharon Hull by email at shull@united-church.ca or phone 1-800-268-3781, extension 6165.
---
button link="https://ecorcuccan.ca/registration-for-working-well-together-on-march-21/" type="big" color="red" newwindow="yes"] Click for registration form[/button]
$50 cost includes lunch and refreshments — there are lunch choices.
Payment options:
E-transfer to Regional Council treasurer Brian James at bjames@united-church.ca (preferred)
Bring cash to site
Pay by cheque made out to the United Church of Canada
Click for registration form