Black History Month was commemorated by Consecon United Church, Prince Edward County, and Kingsview United Church, Oshawa on Sundays February 2 and 9 respectively. A community event was held at the Belleville Public Library as well. Guest speaker for each was Rev. Dr. Aruna Alexander, member of ECORC's Formation, Nurture, and Justice Team.
Generally, the verbal and visual presentation focused on contributions made to church, society, and to the world by selected Canadian/ American/Caribbean persons of respective heritage. Places of historical relevance to Canadian history were highlighted as well. The following is a brief list:
North Buxton National Historical Museum – Ontario 1849 settlement – The Underground Railroad story.
North Buxton School – 1849.
Dr. Wilbur K. Howard – First Black Moderator, The United Church of Canada.
Artis Lane, Canadian Sculptor. (born in North Buxton, now living in Michigan, USA)
Dan Hill (Sr.) – author of The Freedom Seekers, a Black Loyalist History, Nova Scotia.
Lawrence Hill, author. Winner of the Scotiabank Giller Prize 2016. Professor at Univ. of Guelph.
Birchtown, Nova Scotia – arrival of Black Loyalists, 1783.
Birchtown Church, Nova Scotia – still active in the village of Shelburne, Nova Scotia. (Baptist)
George Elliot Clarke – Canadian Parliamentary Poet Laureate, 2016 – 2017. Poet, Playwright, and Literary Critic.
Esi Edugyan, author, Washington Black. Winner of the Scotiabank Giller Prize, and shortlisted for the Booker Prize.
Michaëlle Jean – Governor General of Canada – 2015 – 2017.
Lt. Governor of Ontario Lincoln Alexander, 1985 – 1991.
Arthur Alexander, WW11 Veteran, Chatham, Ontario.
Rev. Dr. Martin Luther King.
Maya Angelou, Poet.
Kathleen Battle, Metropolitan Opera. Famous for her rendition of spiritual Swing Low Sweet Chariot (Listen here).
President and Mrs. Obama.
Misty Copeland – Principal dancer – American Ballet Theater – first African American woman to be promoted to principal dancer in the company's 75th history.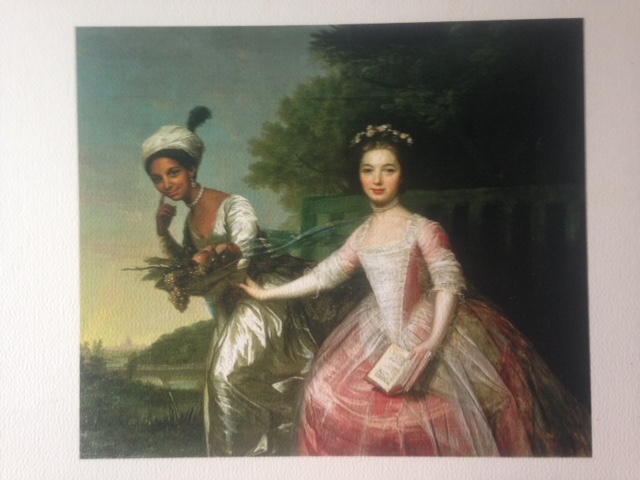 Note on the image
The image used is from a 1799 painting by Scottish Artist David Martin. The portrait shows two of Lord Mansfield's great-nieces: Dido Elizabeth Belle was born in Jamaica; Lady Elizabeth Murray, born in Scotland. Lord Mansfield (1705-1793) was Chief Justice of Britain, and known as Britain's most powerful judge. According to historian Stephen Usherwood's The Abolitionists Debt to Lord Mansfield , "without (Mansfield) to apply the light of reason to thecenturies-old institution of slavery and expose it in precise legal terms, the Abolitionists would have found it infinitely harder to persuade Parliament to declare it illegal."
For further reading: Lord Mansfield : Justice in the Age of Reason by Norman S. Poser (McGill-Queen's University Press).