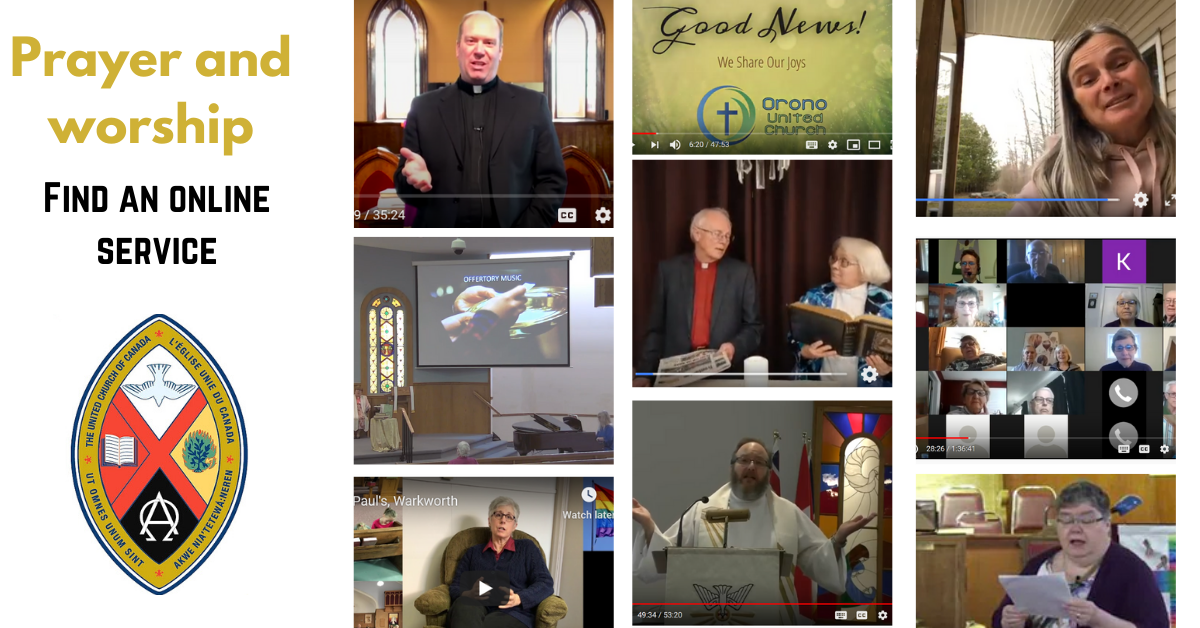 Here are some of the faith communities within the borders of the Regional Council who are offering live streaming or pre-recorded worship during this interesting times of closed church.
Not only can you find a United Church community near you, you can explore others of interest. Haven't been to church in a while? It's a great chance to love your God from the privacy of your own computer and phone, testing the waters if this speaks to you. You would surely be welcome should you choose to attend again when such things are allowed. Regardless of any commitments, just for today, why not pray and sing along with us.
ALPHABETICAL ORDER
Bridge Street United, Belleville,
Prepared services are posted on YouTube. You can find the link and the order of service at the church website: www.bridgestreetchurch.com Here's the YouTube channel: https://www.youtube.com/channel/UCt8ig2IpQ8ILzRfKjNmcuSw
Cambridge St. United Church in Lindsay, 10:30 am
http://theunitedchurch.com/ and click "HERE" on Live Streaming, found on the left of the homepage
Castleton Grafton Pastoral Charge
Recorded services
https://www.youtube.com/channel/UCt09x3TBEauHKsEycXVmUNA?view_as=subscriber
Cold Springs Pastoral Charge is hosting a 20 minute Sunday sermon and 10 minute Wednesday Devotional on their YouTube page "CSPC United Worship" each week.
Cressy Glenora United Church
We invite folks to join us on Sunday mornings at 10:30 a.m. in person and via Zoom. Contact us by email at cressyglenorachurch@gmail.ca or call (438) 459-7796 for the Zoom link and the Order of Service bulletin. When in person, all health protocols are followed. We look forward to meeting you!
Crossroads United in Kingston offers a pre-recorded service every Sunday on both their web site and facebook page . It features hymns from worship music team, prayers and the sermon for the day.
Dunbarton-Fairport United Church, Pickering offers a prerecorded service with Rev. Deb Foster presiding and our Director of Music Dawn Duncliffe. It's available Sundays at 10:30…and thereafter for viewing at leisure. YouTube channel "Dunbarton-Fairport Worship".
Eastminster United Church, Belleville
https://www.youtube.com/user/eastminsterunited
Find the weekly service/sermon on YouTube, Facebook and the church's website.
Ebenezer-Maple Grove Pastoral Charge
We invite folks to join us on Sunday mornings via zoom services. Contact the church email (emgpc@idirect.ca) and service information will be sent out to them. Folks are welcome to join through computer access or by telephone.
Edith Rankin Memorial in Kingston
We hold an interactive worship service using RingCentral Meetings (which runs on the Zoom platform) and we usually include breakout rooms for checking in and/or discussion and conversation related to a homily. Because the services are interactive and focused on relationships, we release a unique link each week by email, and do not post the link publicly. Here is the page for people to sign up to receive the weekly link to our interactive worship service: https://ermuc.ca/become-a-friend/
A recorded version of the service is posted on the website, usually within a day. Find that at  ermuc.ca
Eldad-Hampton Pastoral Charge
Streaming "live" Sundays at 11 a.m.
Can be viewed via either https://www.facebook.com/EldadUnitedChurch/ OR https://hamptonunitedchurch.ca/
Order of service is included on the website. Join us live or view at your convenience.
Faith United, Courtice
https://www.youtube.com/user/faithunitedchurch/videos
You are warmly welcomed to worship with us on Sundays at 10:30am.
Online, that is! The stream goes live shortly before 10:30. It is then available on demand afterward if you wish.
Faith United Church – Kingston – is offering Live Worship on Sunday mornings at 9:30 am through Zoom. More information is available on their website
Goodwood United Church invites you to join their online worship services on Sunday's at 11am, via Zoom – please contact through the link for the Zoom information.
Hastings Roseneath Pastoral Charge
Pre-recorded service available on YouTube
https://www.youtube.com/channel/UCC9hq0K_0BTHGSHH-JGMj2Q?view_as=subscriber</a
Also added to our website: https://harpcharge.com/
And Facebook: https://www.facebook.com/HarpCharge/
Highland Hils, Minden
9:30 on Sundays
http://highlandhillspc.ca/covid-19-church-information/
Kedron United Church, Oshawa
You are invited to join us Live Sundays at 10 a.m. on our Facebook page at https://www.facebook.com/kedron.church.98 or watch the recorded version on our home page at www.kedronunitedchurch.com Our service is also available to listen by phone by dialing 289-512-2886.
Kingsview United Church – Oshawa – You are warmly welcome to join us for our live streamed Online Worship on Sunday mornings at 10:25 am via Facebook or YouTube. More information is available on our website.
Newburgh Centreville Pastoral Charge is holding limited capacity in person worship on Sunday's. Centreville Memorial UC 9:15am,  Newburgh UC 11:00 am. We are producing a YouTube video of the Newburgh service which is posted Sunday evening. Link is https://www.youtube.com/channel/UCUywFolJr85WpBj7KFvoEOA
Orono United Church Pre-recorded
http://oronounited.com/
A full online service that you can watch at the time of your choosing. This week we are offering two versions: one with hymns and one without.
Pickering Village United Church, Ajax
www.pvuc.ca
We are pre-recording our services and they are available on our church website by 10:30 on Sunday morning.
Rednersville Albury Community Church
https://www.facebook.com/groups/1558489887598600
Live at 10 on Facebook page or watch the recording
St. Andrew's By-The-Lake United Church Kingston
You are welcome to join Rev. Christine Sloan and Barbara Szarek Sundays at 10 am for our on-line service at https://www.facebook.com/St.AndrewsByTheLakeUnitedChurch/. The service is available any time after that on our Facebook page. There is a Zoom coffee hour after the service at 11 am. If you wish to join the Zoom session, please contact the church office at standbtl51@gmail.com to be added to the list of folks receiving this information, as well as the words for the hymns sung during the service.
St. John's United Church – Campbellford
We have a weekly recorded worship via YouTube
https://www.youtube.com/channel/UCfOe2YDoGddsSa0oLBThTNg
St. Mark's, Cannifton
https://www.youtube.com/channel/UCCal98Qc3PK5Q8tCeXsRESA/
Live 10:30 – 11:30 and recording available following worship.
St. Mark's United Church, Whitby , ON
Our online service is posted each Sunday at 10 am.
Visit our website: http://stmarkswhitby.ca/,
our facebook page: https://www.facebook.com/StMarksUnitedChurchWhitby
or our youtube channel for a library of services: https://www.youtube.com/channel/UCJ05MvayhH_h7ShUkT6eUEg.
St. Paul's Ajax
https://stpaulsajax.org/worship/stpaulsajax.org
You are invited to join us each Sunday at 10:30 a.m. (EDT) for a time of reflection, music and prayer.
St. Paul's United Church in Bancroft
Bancroft Carlow Pastoral Charge (bancroftcarlowunited.com)
St. Paul's United Church in Bancroft is offering virtual church services on Sunday morning's at 10:30 a.m.
St. Paul's United Church in Bowmanville
Our church is online with Facebook and vimeo live (https://vimeo.com/event/1464092). Services are also uploaded to the website each week.
St. Paul's Warkworth 10:30 am
https://stpaulswarkworth.ca/
The details will be in the event calendar if not on the homepage
Selby Pastoral Charge
http://selbyunited.ca/selby_united/online-worship/
Our pre-recorded service can be found on our website. Services will be posted each Sunday at 7:00 am, and can be watched at any time.
Trenton United Church Worship recordings
https://www.youtube.com/channel/UCay6a9V-cInQE02ZZxEQS2g
Trinity St Andrew's, Brighton
Streaming on Facebook live Sunday mornings at 10:30. It's actually a zoom meeting that we are sharing to facebook, but people can join in. The link is https://www.facebook.com/TSAUC/
More information on our web site trinitystandrews.ca
Trinity United Church, Peterborough
https://youtu.be/QS3VDD117YO
Join the service at 10 am or watch the recording later
Get more info on Facebook
United Community Ministry Brick- Kawartha
There is no livestream. Sunday morning services are recorded and available on YouTube by Tuesdays.
https://youtube.com/watch?v=SZbIb3vS4qo&feature=share
---
Find services from across the country
UCC interactive map of services
Broadview Magazine is also compiling ONLINE services