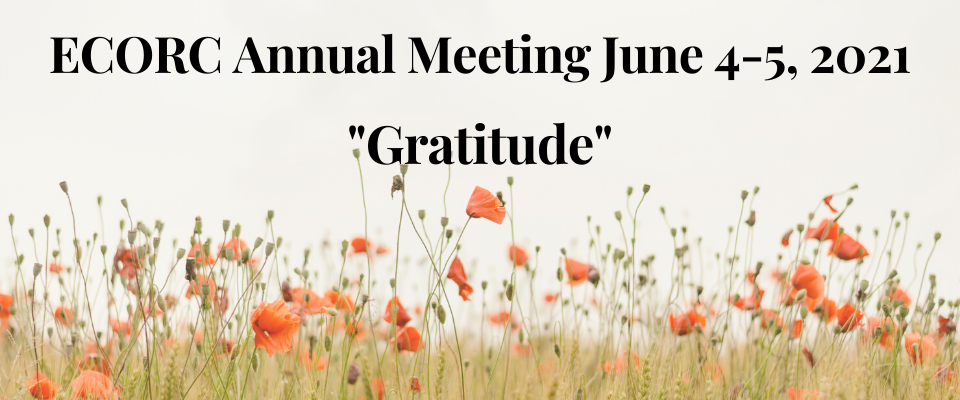 Thank you!
The 2021 EOORC Annual Spring Meeting is over! Thank you to all who were able to attend. We even ended on time! For those who did not attend, please have a look at the meeting documents below to get an idea of some of the topics that were discussed. You will also find video's and Motions below that were passed at the meeting as well as your evaluation form. 
Any questions or concerns, please contact Karen Wilson, Communication and Administrative Assistant
An Invitation from Rev. Paul Reed
Speaker, Assembly of Elders
Greetings,
The accompanying photo is of a handcrafted gift from my daughter. It is one of the first things I see each morning and again at night. It is a present reminder to live day and night with gratitude and thanksgiving. It features words from verse three of the Hymn "For the Fruit of All Creation" 
              For the wonders that astound us,
              for the truths that still confound us,
              most of all that love has found us,
              thanks be to God.
 One of the gifts of the past 14 months has been a chance to re-evaluate life, to consider what really matters, to know what we miss and to know what we have. It truly is astounding how communities of faith have responded – worship is different, community is far reaching, and outreach is from the heart instead of from a building. As we gather this spring – in a different fashion than we could have ever imagined two years ago, let us gather with gratitude and thanksgiving. We are blessed and are called to be a blessing.
We gather Friday June 4, 6:30 pm – 9 pm and again Saturday morning, June 5 from 9 am to noon. It is an abbreviated agenda, in part made possible by the preliminary sessions on the topics of Priority Setting, Affirming and Nominations. It was in those sessions that discussion occurred, and the input received has shaped the ongoing work. We will receive the reports, ideally affirm the recommendations, and begin the conversation of next steps. Our denomination has committed to Equity and Anti-racism and we will have before us an Anti-racism and diversity policy to consider. There are presentations to be shared.  We will be the church together; thanks be to God.
If you are unable to attend and wish your regrets noted, please e-mail Joel Miller.
Thank you for your commitment and dedication.
Rev. Paul Reed
Speaker, Assembly of Elders
East Central Ontario Regional Council
Spring Meeting Evaluation Form - Click HERE!
Post Meeting Documents & Video's