Indigenous Justice & Respectful Relationships
Territorial Acknowledgment
The East Central Ontario Regional Council (ECORC) of the United Church of Canada acknowledges that its buildings and ministries are on traditional territories of Indigenous Peoples.
CONTACT
Reverend Rodney Smith-Merkley is the Regional Council's Minister for Respectful Relations and Indigenous Justice. 
Phone: 1-800-268-3781 Ext. 6164
Email: RSMerkley@united-church.ca
Trekking Across Canada Together
Trinity St Andrew's United Church in Brighton is inviting you on a special pilgrimage. From now until Indigenous day of prayer, June 21, we are trekking across Canada together, and learning about the people through whose traditional territory we will be walking. Will you join us? All you do is email Pamela at admin@trinitystandrews.ca and let her know how many kilometres you have walked from Monday to Sunday, or how many minutes of other types of exercise you have engaged. Every Monday we tally our efforts to discover how far we have walked collectively from St John's to Victoria, stopping at each capital city along the way. Then Wednesday of each week we will publish an update on our journey, with interviews, links, and video introducing us to the indigenous communities on our path. Why are we doing this? Two main reasons, although you may have your own reasons for joining. 1) we all need an incentive to move our bodies and stay healthy during lockdown and stay-at-home orders.  And just as important, 2) we want to learn, build relations, see our country through a different lens. Will you join us? Email Pamela, let her know you are interested, and keep track of your exercise. Then watch for our weekly email introducing us all to the rich traditions, culture and peoples who have lived on this land since time immemorial.
Wednesday, April 8th, 2021
This past week we walked more than 1000 kilometre, and find ourselves crossing on a ferry, traveling down the north shore of the Gulf of St Lawrence to the town of Port Cartier, Quebec. We are on Nitassinan, ᓂᑕᔅᓯᓇᓐ, the traditional land of the Innu, territory that stretches across Labrador and Eastern Quebec. Nitassinan means "our land", and the Innu community has created a beautiful web site  full of teachings about their culture. Do yourself a favour, and spend an hour or so perusing these videos, and the rest of the incredible site, and learn about the adventures of young Messanak as he learns his culture's traditions. If you aren't sure where to begin, read the Tale of Tshakapesh, and listen to the recording in traditional language.
Tale of Tshakapesh
In the Innu culture, many legends have crossed time and are currently doing very well. Some of them go as far back as the last glaciations thousands of years ago. The Tale of Tshakapesh, a transliteration of oral poetry focusing on spirituality, is one of them. It brings us back to a period of time where people and animals would share everything, including the mysterious World of Dream. This exciting legend is about Tshakapesh, the hero behind the creation of the World, who, as a role model, teaches that with sheer courage, hard work and perseverance, one can always overcome difficulties. To continue reading, please visit this page.
Blessings as we continue to travel together and learn!
Rev. Wanda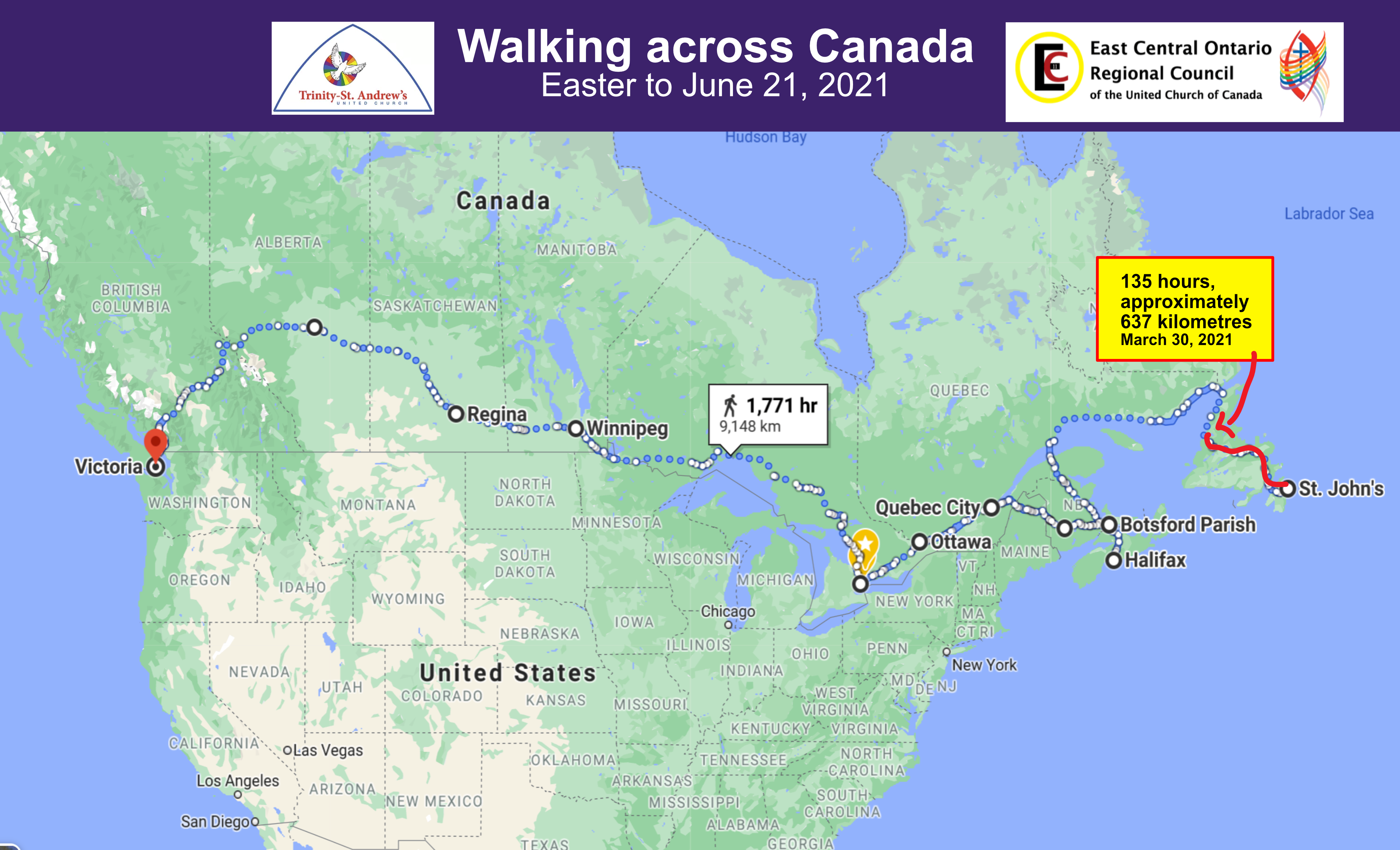 Sign up for the Respectful Relations info list
Indigenous Justice and Respectful Relationship Stories
Walking the Path of Peace Together * – March 2021 Update: Over the winter, plans for the use of the land the spring, summer and fall of 2021 have been developing in exciting ways, led this year primarily by an Indigenous member of the Walking the Path of Peace Together's Land Council, Maureen Buchanan.  Over the past year including through the winter, there has been an increased use of the land by Indigenous people and groups such as the Kingston Indigenous Language Nest (KILN) for ceremony, teachings and renewal.[1] Read the full article HERE    [1] For further information on the Language Nest, see: https://kingstonindigenouslanguage.ca       
The Beginnings of a Wonderful Partnership: Two grannies, Irene Clarke and Doris Thomas from the Region had just retired. With lots of energy and enthusiasm they volunteered in Missions in Peru, India and Cuba. Someone asked why don't you do something in your own country? Why not? But, how do you get started? View the complete article here. 
Indigenous Learning Resources
---
Indigenous Peoples Atlas of Canada
In this atlas, you will find outstanding reference maps of Indigenous Canada, as well as a section devoted to Truth and Reconciliation, including detailed pages on many aspects of the topic with contemporary and historical photography, maps and more. There's also a glossary of common Indigenous terms. This atlas was created by The Royal Canadian Geographical Society in conjunction with the Assembly of First Nations, Inuit Tapiriit Kanatami, the Métis Nation, the National Centre for Truth and Reconciliation and Indspire.
For more info, visit: Indigenous Peoples Atlas of Canada
---
21 Things You May Not Know About the Indian Act
…the essential guide to understanding the [Indian Act] and its repercussions on generations of Indigenous Peoples, written by a leading cultural sensitivity trainer.
For more info, visit: 21 Things You May Not Know About the Indian Act
---
Indigenous Relations – Insights, Tips & Suggestions to Make Reconciliation a Reality
Practical tools that will help you respectfully avoid missteps in your business interactions and personal relationships with Indigenous Peoples.
For more info, visit: Indigenous Relations – Insights, Tips & Suggestions to Make Reconciliation a Reality
Calls to the Church
Calls to the Church articulates the Indigenous Church's vision for the ongoing development of Indigenous Peoples' mission and ministry and communities of faith within The United Church of Canada.
It outlines pathways for the whole church to continue to walk in the Spirit of Christ toward justice, healing, and reconciliation.
---
---
For more info, visit: United Church of Canada – Calls to the Church